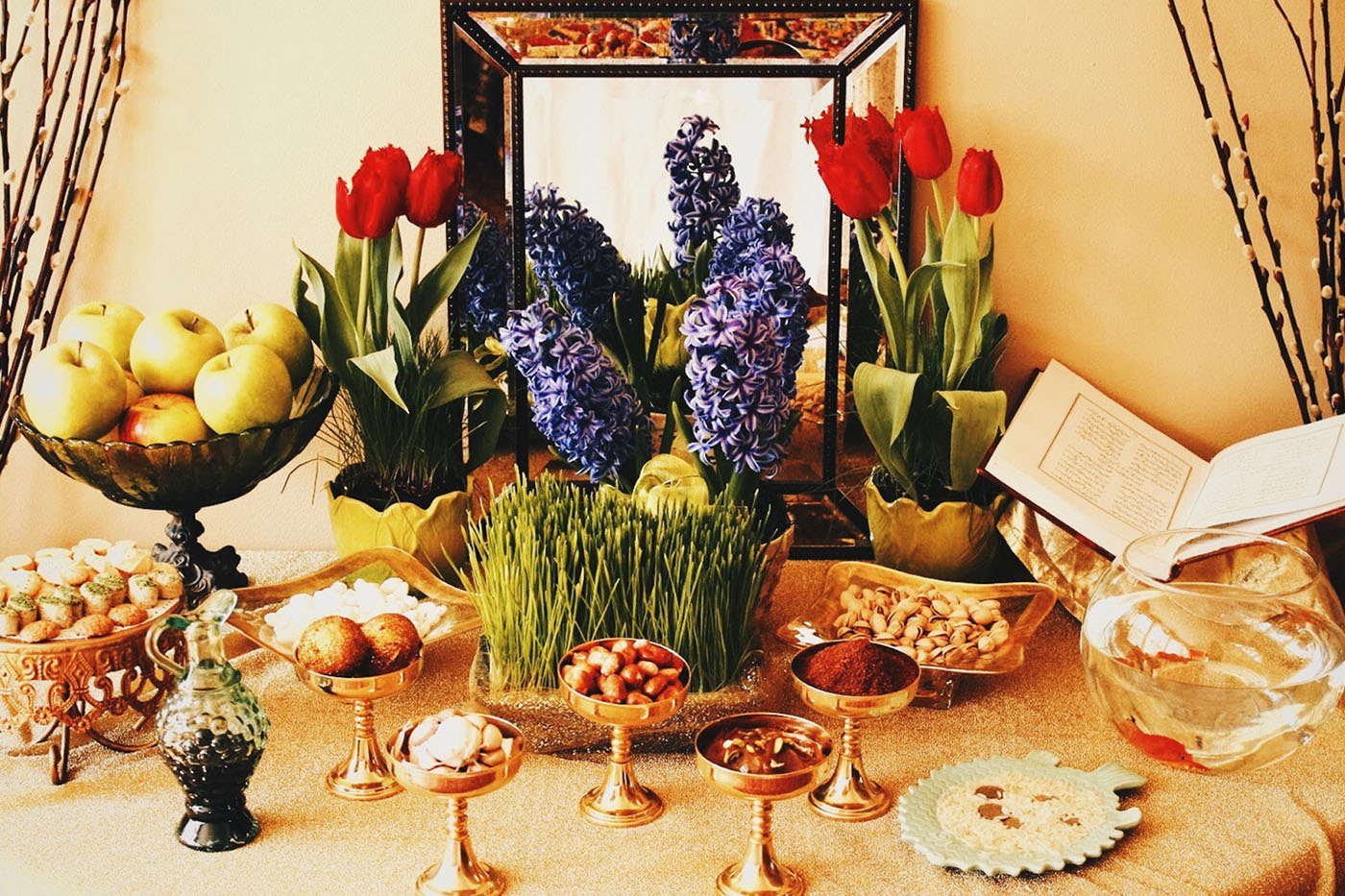 Today's impos­si­ble prompt: a poem about spring cel­e­bra­tions and peace.
Maha Tourbah
Sun­day, March 20th, marked the begin­ning of the Spring Equinox in earth's north­ern hemi­sphere. It was at 16h33 and 23 sec­onds, French time, accord­ing to the Insti­tute for Celes­tial Mechan­ics and Com­pu­ta­tion of Ephemerides (IMCCE) in Paris, that at that moment in the astro­nom­i­cal cycle the sun was exact­ly above the equa­tor, mak­ing the day and night equal, announc­ing sun­nier times, longer days and short­er nights. In some parts of the world, for some 300 mil­lion peo­ple, the Equinox calls for days of cel­e­bra­tions devot­ed to a com­mem­o­ra­tion of life, new begin­nings, and nature's rejuvenation.
Peo­ple have held this cel­e­bra­tion sacred for over 3,000 years in regions that include the Balka­ns, the Black Sea Basin, the Cau­ca­sus, the Lev­ant and Cen­tral Asia into Iran and Afghanistan. Orga­nized reli­gions, how­ev­er — includ­ing Catholi­cism, Judaism and Islam — have tried to sti­fle these pagan cel­e­bra­tions , because they remind peo­ple of our col­lec­tive past before there was one true god.
Why would any­one repress, on a mass scale no less, a cel­e­bra­tion of the Equinox, a mer­ry event that comes at a time of year after the long win­ter — an occa­sion that prompts folks to deep clean their hous­es! In what world is this bad? On a more spir­i­tu­al lev­el, it seeks to bring fam­i­lies togeth­er to feel joy over some­thing as intrin­si­cal­ly good and even tan­gi­ble as nature spring­ing into flow­er­ing blossoms…
I know why, of course: it's all pol­i­tics and pow­er grab­bing of people's minds. It's not enough to demand feal­ty to God; reli­gious lead­ers must also con­trol your social cal­en­dar. But let's not give them more than these two lines.
In Iran, this hol­i­day is called Nowruz and cel­e­bra­tions go on for 13 days, usu­al­ly end­ing in an all-out fam­i­ly pic­nic. Indeed, Nowruz is a fes­ti­val fêt­ed world­wide by var­i­ous eth­no­lin­guis­tic groups, root­ed in the rit­u­als and tra­di­tions of the Zoroas­tri­an reli­gion. In every Per­sian home, in Iran and abroad, the "haft sin" table is painstak­ing­ly dec­o­rat­ed and proud­ly parad­ed for vis­i­tors to see and gush over. In Per­sian, "haft" means 7, lucky num­ber 7 and "sin" is the let­ter (s) pro­nounced "seen." Sin is also the let­ter at the begin­ning of each of the items on the des­ig­nat­ed table, each of them being a sym­bol of spring and renew­al. These items may vary from house­hold to house­hold, but are usu­al­ly com­prised of:
Of course, vari­a­tions exist, the most notable are one of two books: a book of poems or the Quran, both sym­bol­iz­ing wis­dom almost in antag­o­nis­tic ways.
For Ira­ni­ans, Kurds, Slavs and inci­den­tal­ly many peo­ples with ancient roots that cel­e­brat­ed and cel­e­brate still the Spring Equinox, times have been dif­fi­cult … always, it seems. War has been loom­ing over them threat­en­ing and pal­pa­ble for as long as they can remem­ber. It wasn't so long ago that they were under its destruc­tive rage, and it nev­er seems to com­plete­ly dis­si­pate from their conscience.
It is rarely an inbred war, usu­al­ly an imposed and import­ed one.
And yet, here we are, a new lev­el of hor­ror unfold­ing. As nature pre­pares to wel­come its most gen­er­ous of sea­sons, the rebirth of its youth, and its clement weath­er; man pos­tures to invade and con­quer, killing, destroy­ing and dam­ag­ing col­lat­er­al­ly and unashamed­ly. Although war is not unfa­mil­iar to these ancients, the west­ern world, espe­cial­ly but not exclu­sive­ly the U.S., has grown used to play­ing war exclu­sive­ly in oth­er coun­tries, but this round of war is hap­pen­ing in Europe and seems to be threat­en­ing the entire world. Our usu­al so-called pun­dits are talk­ing of World War III. Can any­one alive today real­ly claim they do not know what hap­pens when Europe makes war?
How are we to write poems of peace, while war rages? How can we see war and cel­e­bra­tions all at once?
It feels like real­i­ty is split into schiz­o­phrenic lay­ers, exist­ing togeth­er, com­plete­ly dis­so­ci­at­ed from each other.
This split exis­tence is all too com­mon for expats/immigrants (depend­ing on your point of view/color of your skin/job title) like myself, a Lebanese in France.
We are con­stant­ly liv­ing lay­ers of our real­i­ties simul­ta­ne­ous­ly. We seam­less­ly nav­i­gate between the lay­ers, going from tragedy in one exis­tence to cel­e­bra­tions in anoth­er, in one conversation.
There is an Ara­bic poem, writ­ten by the leg­endary Al-Mutan­ab­bi (915–965 AD) that invari­ably comes to mind in these occasions.
It is an impos­si­ble feat to trans­late Al-Mutan­ab­bi, his pow­er over lan­guage is unequiv­o­cal, and I am not about to attempt what he did in Ara­bic into Eng­lish. Or am I? It seems I must, please for­give me:

Ô Holy day, in what state do you visit?
Is it with more of the past, or have you brought some­thing new?
So, in oth­er words, are you going to throw at us the same old hard­ships or will you car­ry nov­el­ty, hope, any kind of change?
Will we see this war esca­late into past night­mares, or will it some­how recede into the hell­ish abyss from which it came?
Will the pow­ers of today's "free world" choose the sen­si­ble option? Who or what, can stop the war machine? Stand in the face of the arms busi­ness? Unless by some freak chance war becomes unprof­itable, they will only stop if they have to, if they are made to.
We can hope that Europe will make the wise deci­sion of stand­ing up to the U.S. and not let this war esca­late fur­ther, all while hold­ing Putin's Rus­sia at arm's length. But they may just not have a say in how things will go.
Either way, how­ev­er all this insan­i­ty plays out, life will not stop. It should not stop. If we let these mon­sters fill us with fear, then they would have tak­en every­thing. We will hold the bat­tered peo­ples of the world in our hearts, we will be kind to strangers, to our neigh­bors, give when and where we can, and we will cel­e­brate life. We must cel­e­brate life.
With this I remem­ber anoth­er Arab poet leg­end, Mrou'o El Qais (501–544 AD) and his infi­nite wis­dom when he said, upon hear­ing the dev­as­tat­ing news of the death of his father (while out drunk with his bud­dies, for context):

Sobri­ety comes not today, and tomor­row refrains from drink
Today, we feast
Tomor­row, we deal (with the world)
I apol­o­gize again for anoth­er trans­la­tion, it's Spring Equinox, find it in you to for­give me. I did not find a poem in me, but I bor­rowed a few words from past poets that still res­onate today.
Will spring bring peace, O holi­est of hol­i­days? We do not know, but we will cel­e­brate today and tomor­row, and we shall deal with the world and all it will throw at us, tomor­row and today. Seam­less­ly and in one conversation.