Jordan Elgrably
"I survived," Malak writes on her Instagram account. "I'm a officially a four Israeli attack survivor by the age of 21."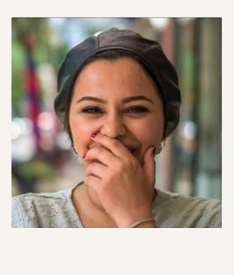 In 2014, Malak Mattar was 14 years old when the 51-day Israeli assault known euphemistically as "Operation Protective Edge" was raging around her Gaza City home. Like other children, she found herself extremely bored, fearful and anxious, since it was not safe to go outside — not that it was really safer indoors. Malak had already lived through the major attacks of 2009-2010 and 2012, but it wasn't until July of 2014 that she began drawing and painting in earnest, to "discharge all of my negative energy," she says. Sometimes she thinks it was just a matter of time, as she grew up in an artistic family (her uncle is the Gazan painter Mohammed Musallam).
To get started with drawing and water coloring, Malak had been given some low-grade paper and water colors at her government school, where in fact she excelled in political science, which had led to her winning a scholarship out of some 70,000 Palestinian schoolchildren to do her university studies in Turkey. These materials were all she had at her disposal during the 51-day "war" in Gaza.
She quickly discovered she had a budding talent and loved the self-expression that intense colors allowed. Malak has been painting ever since, although now with acrylics and oil on canvas. She currently lives in Istanbul, but when I spoke to her she had been back in Gaza on break since March, and thus found herself present in her family's home when a new Israeli bombing campaign began in May — in response, they claimed, to the rockets fired on Israel by Hamas.
"This is my mother. It's an oil painting I started during the attack of 2021. I depicted my family and the fear of my siblings when there was no shelter but my mum's embrace. The worst part is the damage done to one's psychology, of living under attack and feeling unprotected, because Gaza has no shelters or safe places. That's the reason 19 families were wiped out when they were staying inside their homes. The scariest part is facing the most heavy and complex weapons in the world with my own body, which is very vulnerable and weak under attack," Malak says.
"The fire in the painting is the bombings that were happening too close and once the bombing is fired, it gives the same effect as a huge fire with its color and reflections in the sky."
Malak goes on, "During this last attack, I drew many sketches, stories of people and families wiped out, I painted figures…I'm keen on turning these pieces into paintings. Unfortunately no artist from Gaza has painted the last attack, so I think it's very important to document it. I'm going to start working on it very soon. I still have some commissions to finish, but after this I'll work full-time on it."
Malak is working toward her BA, studying political science, international relations and economy at a small private university in Istanbul. I asked her how she finds herself enmeshed with both art and politics.
"Being born in Gaza there's no choice but to be political, because I grew up hearing politics in school and at home with my family and elsewhere. It was something that I was really interested in, but in high school it's a diploma and a highly competitive one at that. I wanted to leave Gaza by any means, so I was happy when I won the scholarship."
She says she was surprised to find that the Turkish approach to education isn't as balanced as she had expected. "I feel like I'm just studying the Turkish point of view, it doesn't feel like a neutral education, especially because I signed up for Middle East Studies, and I was shocked at how they tell the story of Palestine and Israel — they claim that Palestinians sold their lands to Israel."
During her first year abroad in Istanbul, Malak says that she felt she had traveled from one prison to another, from Gaza to Turkey, because of the inevitable restrictions placed on someone traveling on a Palestinian travel document that is frequently challenged at international borders. Early on, Malak found herself receiving invitations from France and Great Britain but got rejected because she didn't have the right visas. Meanwhile she has exhibited her artwork in India, Spain, Paris, Fontenay Sous-Bois, 11 states in the USA, four exhibitions in the UK and a few cities in Turkey.
Malak has another year to go to get her degree and returns to Istanbul in September. In August, meanwhile, she will be publishing a bilingual Arabic-English children's book titled Grandma's Bird on the 2014 Israel-Hamas war in Gaza, with writing and drawings reflecting her own experience. See more of her work on Instagram.