Jordan Elgrably
"I sur­vived," Malak writes on her Insta­gram account. "I'm a offi­cial­ly a four Israeli attack sur­vivor by the age of 21."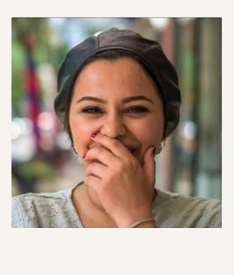 In 2014, Malak Mat­tar was 14 years old when the 51-day Israeli assault known euphemisti­cal­ly as "Oper­a­tion Pro­tec­tive Edge" was rag­ing around her Gaza City home. Like oth­er chil­dren, she found her­self extreme­ly bored, fear­ful and anx­ious, since it was not safe to go out­side — not that it was real­ly safer indoors. Malak had already lived through the major attacks of 2009–2010 and 2012, but it was­n't until July of 2014 that she began draw­ing and paint­ing in earnest, to "dis­charge all of my neg­a­tive ener­gy," she says. Some­times she thinks it was just a mat­ter of time, as she grew up in an artis­tic fam­i­ly (her uncle is the Gazan painter Mohammed Musal­lam).
To get start­ed with draw­ing and water col­or­ing, Malak had been giv­en some low-grade paper and water col­ors at her gov­ern­ment school, where in fact she excelled in polit­i­cal sci­ence, which had led to her win­ning a schol­ar­ship out of some 70,000 Pales­tin­ian school­child­ren to do her uni­ver­si­ty stud­ies in Turkey. These mate­ri­als were all she had at her dis­pos­al dur­ing the 51-day "war" in Gaza.
She quick­ly dis­cov­ered she had a bud­ding tal­ent and loved the self-expres­sion that intense col­ors allowed. Malak has been paint­ing ever since, although now with acrylics and oil on can­vas. She cur­rent­ly lives in Istan­bul, but when I spoke to her she had been back in Gaza on break since March, and thus found her­self present in her fam­i­ly's home when a new Israeli bomb­ing cam­paign began in May — in response, they claimed, to the rock­ets fired on Israel by Hamas.
"This is my moth­er. It's an oil paint­ing I start­ed dur­ing the attack of 2021. I depict­ed my fam­i­ly and the fear of my sib­lings when there was no shel­ter but my mum's embrace. The worst part is the dam­age done to one's psy­chol­o­gy, of liv­ing under attack and feel­ing unpro­tect­ed, because Gaza has no shel­ters or safe places. That's the rea­son 19 fam­i­lies were wiped out when they were stay­ing inside their homes. The scari­est part is fac­ing the most heavy and com­plex weapons in the world with my own body, which is very vul­ner­a­ble and weak under attack," Malak says.
"The fire in the paint­ing is the bomb­ings that were hap­pen­ing too close and once the bomb­ing is fired, it gives the same effect as a huge fire with its col­or and reflec­tions in the sky."
Malak goes on, "Dur­ing this last attack, I drew many sketch­es, sto­ries of peo­ple and fam­i­lies wiped out, I paint­ed figures…I'm keen on turn­ing these pieces into paint­ings. Unfor­tu­nate­ly no artist from Gaza has paint­ed the last attack, so I think it's very impor­tant to doc­u­ment it. I'm going to start work­ing on it very soon. I still have some com­mis­sions to fin­ish, but after this I'll work full-time on it."
Malak is work­ing toward her BA, study­ing polit­i­cal sci­ence, inter­na­tion­al rela­tions and econ­o­my at a small pri­vate uni­ver­si­ty in Istan­bul. I asked her how she finds her­self enmeshed with both art and politics.
"Being born in Gaza there's no choice but to be polit­i­cal, because I grew up hear­ing pol­i­tics in school and at home with my fam­i­ly and else­where. It was some­thing that I was real­ly inter­est­ed in, but in high school it's a diplo­ma and a high­ly com­pet­i­tive one at that. I want­ed to leave Gaza by any means, so I was hap­py when I won the scholarship."
She says she was sur­prised to find that the Turk­ish approach to edu­ca­tion isn't as bal­anced as she had expect­ed. "I feel like I'm just study­ing the Turk­ish point of view, it does­n't feel like a neu­tral edu­ca­tion, espe­cial­ly because I signed up for Mid­dle East Stud­ies, and I was shocked at how they tell the sto­ry of Pales­tine and Israel — they claim that Pales­tini­ans sold their lands to Israel."
Dur­ing her first year abroad in Istan­bul, Malak says that she felt she had trav­eled from one prison to anoth­er, from Gaza to Turkey, because of the inevitable restric­tions placed on some­one trav­el­ing on a Pales­tin­ian trav­el doc­u­ment that is fre­quent­ly chal­lenged at inter­na­tion­al bor­ders. Ear­ly on, Malak found her­self receiv­ing invi­ta­tions from France and Great Britain but got reject­ed because she did­n't have the right visas. Mean­while she has exhib­it­ed her art­work in India, Spain, Paris, Fonte­nay Sous-Bois, 11 states in the USA, four exhi­bi­tions in the UK and a few cities in Turkey.
Malak has anoth­er year to go to get her degree and returns to Istan­bul in Sep­tem­ber. In August, mean­while, she will be pub­lish­ing a bilin­gual Ara­bic-Eng­lish chil­dren's book titled Grand­ma's Bird on the 2014 Israel-Hamas war in Gaza, with writ­ing and draw­ings reflect­ing her own expe­ri­ence. See more of her work on Insta­gram.